Federal swimming pool safety guidelines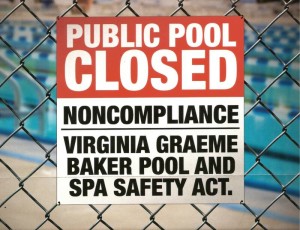 In 2008, the Virginia Graeme Baker Pool and Spa Act was enacted as part of the Energy Independence and Security Act. The Act was named after young girl who tragically drowned in a hot tub after her hair became entangled in the spa's circulation system. The overall focus of the act is promoting public safety and reducing drowning injuries and deaths suffered by children. The goals of the act include:
Enhancing the safety of public and private pools
Reduction of child drownings
Reducing the number of deaths and accidents associated with the suction system of pools
Educating adults on the importance of constant supervision for children at swimming pools
The Virginia Graeme Baker Pool and Spa Act seeks to accomplish these goals through education and regulation. The Act notes Congressional findings show drowning is the second leading cause of death for children under 15, adult supervision at swimming pools is critical in preventing child drownings, and that research shows pool fences and other barriers could play a major part in preventing child drownings.
Swimming pool drain cover and suction system regulations
The regulations set forth in the Virginia Graeme Baker Swimming Pool and Spa Act requires drainage covers and suction outlets be certified in compliance with the standards of the Act. It requires public pools equipped with a single main drain to have one of the following systems installed to prevent entrapment:
Safety vacuum release system which halts operation of the pump, reverses the flow of circulation, or provides a release at a suction outlet when a blockage is detected,
Suction-limiting vent system with a tamper-resistant atmospheric opening,
Gravity drainage system that utilizes a collector tank,
Automatic pump shut-off system,
Device or system that disables the drain, or
Any other system determined to be as equally effective, or better than, the above-described systems
Swimming pool drain cover injury lawyers
If your child or someone you love drowned, suffered a severe near-drowning event, or other type of severe injury after being entangled in the suction system of a swimming pool, it may be because the suction system and drain covers were not in compliance with the Virginia Graeme Baker Act. The Cochran Firm, D.C. can investigate whether the pool was operating in compliance with this and other safety regulations.
The Cochran Firm, D.C. has a team of experienced and dedicated swimming injury and drowning attorneys who can help you recover compensation for medical bills, funeral costs, loss of income, pain and suffering and other damages. Our firm has a strong track record of securing favorable settlements for swimming pool accident victims and their families and we will fight to help you get the compensation you deserve.
We offer free, prompt, and confidential case evaluations and you are under no obligations for taking the time to speak with us and review your claim. We take cases on a contingency basis, meaning there are no legal fees unless we recover for you. Because strict time deadlines apply when filing a swimming pool accident claim, please contact us at your earliest convenience in order to preserve your rights.
Call us locally at 202-682-5800 during business hours, or 24 hours a day at 1-800-THE-FIRM (843-3476). You can also fill out a contact form online in order to receive a prompt and confidential case review.