Hot tub accident lawyers in Maryland, Virginia, and Washington, D.C.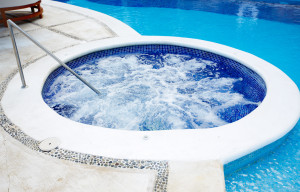 Visiting a hot tub or a spa can be a great way to relax and rehabilitate.  There are many public spas in the Washington, D.C. and Baltimore metro areas and hot tubs can be found in hotels, apartments, and private homes.  Unfortunately, if the owners of these spas and hot tubs do not adequately maintain their facilities, the consequences can be severe.  Hot tub and spa operators can be held responsible for their negligence which causes injury to others.
There are a variety of injuries or accidents a person may sustain while using a hot tub or visiting a spa.  If temperatures are too high, children and the elderly may sustain heat stroke.  Warm waters may also cause users to become drowsy to the point of becoming unconscious and drowning in the hot tub.
Leading causes of hot tub injuries
Hot tubs are susceptible to buildups of potentially infectious bacteria Pseudomonas aeruginosa if they are not properly maintained by hot tub and spa owners.  The U.S. Consumer Safety Product Commission also warns that people with a history of heart disease should seek a doctor's advice before using a hot tub.  The following is a list of risk factors people should be aware of when visiting a hot tub:
Water temperatures are too high in a hot tub
No fences or gates around the hot tub to prevent children from entering unsupervised
Inadequate warning signs about the dangers of hot tubs
Overuse of chemicals to treat the water
Poor maintenance to prevent bacterial build up
Lack of hot tub user supervision at hotels, apartments, spas, or private residences
Over-serving alcohol to guests using hot tubs at hotels or spas
Hot tub injury lawyers serving Maryland, Virginia, and Washington, D.C.
Hot tub injury victims and their families may be left with extremely difficult circumstances following a drowning, near-drowning, or other severe injury.  Near-drowning survivors may need months or years of physical rehabilitation to cope with their injuries. Injured victims may also face large medical bills or hospital costs.  When injuries are caused by the negligence of hot tub and spa owners, they may be held responsible for their wrongdoing.
The Cochran Firm, D.C. has a team of experienced and dedicated personal injury attorneys who will help you recover damages for lost wages, medical bills, hospital costs, pain and suffering, and other damages.  We are experienced and equipped to handle the process of securing compensation for injured victims and ready to fight for you and your family.
We offer free, prompt, and confidential case reviews and since we represent our clients on contingency basis, there are no legal fees until we win your case.  There are strict time deadlines when filing a hot tub injury lawsuit so please contact us at your earliest convenience in order to preserve your rights.
Call us locally at 202-682-5800 or 1-800-THE-FIRM (843-3476) to reach us 24 hours a day.  You may also fill out a contact form here on our website.